| | |
| --- | --- |
| ● | The model EFS-22 roll tube type automatic bag making and filling machine includes bag making, product filling, bag top sealing, and cooling stations. The machine is designed and manufactured using state-of-the-art technology and all functioning components are integrated into a compact body. |
| | |
| --- | --- |
| ● | A graphic control panel is used to adjust sealing temperature timing, and to change the cutting length. The versatile graphic panel also provides an operation monitor, various setting screens, fault displays, and a sequencer I/O monitor. All operational controls are done on the graphic panel. |
| | |
| --- | --- |
| ● | The highly efficien chut realize high-speed operatio of approximately 30 bags per minute at 25kg per bag. |



SPECIFICATIONS

Model

EFS-22

Capacity※1

1,850 bags / hr max.

Products

Resin pellets

Set weight

20 - 30 kg / bags

Film roll

Gusseted roll tube

Bag size
※2

Width of empty bag

380 to 460 mm

Length of empty bag

750 to 950 mm

Air consumption

1,700NL/min

Power requirements

24.0 kW

Weight

6.0 t
※1

Varies with the product and oprating environments.
※2

Contact us for applications involving common use of different bags, use of special bags, and bag dimensions and setweights outside the above range.





The illustration explain in detail.

The roll stand may be installed to
match the customer layout (optional).
OUTWARD DIMENSIONS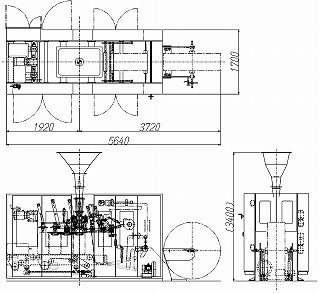 ●Dimensions vary with specifications.
EFS-22 bagging system line for reference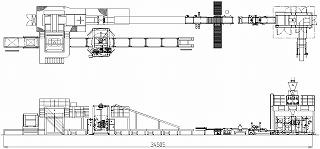 Seperate-Type
Roll Stand
Corner Seal Unit
Pinhole Unit
Bottom Seal and
Cutter Unit








Bag Opener and
Filling Unit
Top Seal Unit
Top Seal Cooling
Clamp Unit
Graphic Panel








規格如有改變不作另行通知
每一個型號的圖片及規格都會有所不同
未經批准而轉授是禁止的