3CM-PDS is designed and developed within the model 3CM-P series.
It incorporates a double bag filling system with servo motor drive for traverse bag advancement movement. This design achieves 2,000 bags per hour in 20-50kg applications.
A fully automated packing line with effective space utilization can be realized by the installation of the model 3CM-PDS in connection with an existing production line.



Specifications

Model
3CM-PDS / 3CM-PD*
Capacity※1

2,000 / 1,800 bags/hr max.

Set weight
20 - 30 kg/bags
Bag size ※2
Width of empty bag
380 - 460 mm

Length of empty bag

750 to 950 mm
Air consumption
2,000 / 3,000 NL/min
Power requirements
21.0 / 16.0 kW
Weight
6.0 t

※1Varies with the product and operating environments.
※2Contact us for applications involving common use of different bags, use of special bags, and bag dimensions and set weights outside the above range.




4-block bag magazine

Double bag aligner & double bag take out device
OUTWARD DIMENSIONS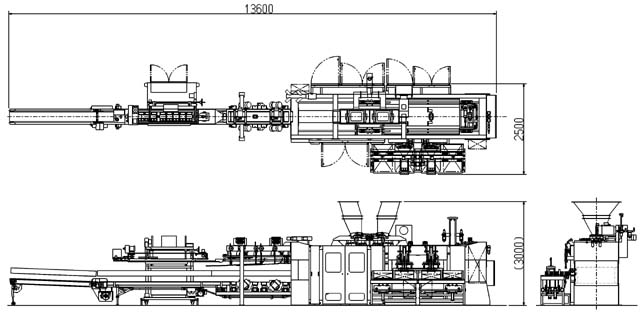 Dimensions vary with specifications.
Specifications should be changed without previous notice
There are some differences between shown picture and specifications of each MODEL.
Diversion without permission should be prohibited.