FILLED BAG CLOSING MACHINE WITH INNER FILM- SEALER
REAR SEWING MACHINE TYPE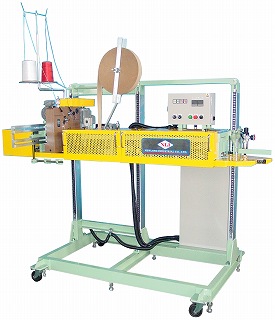 Photograph is model KS-23
Standard Specification

Specs

Sealing speed

Heater (W)

Drive (kW)

Power (kW)

Range

Capacity

Sealer

Sewer

KS-S

6 ~ 10m/min

-

0.4

0.4

1

KS-23

500 x 6

0.4

4

KS-23D

KS-24

500 x 8

0.4

5

KS-24D

KS-26

500 x 12

0.75

7.5

KS-26D
Standard Specification

Specs

Dimensions (mm)




Weight
(kg)

Options

Applications

Length

Width

Dust cleaner

Crepe tape

KS-S

1,320

1,110

ca.250

-

standard
equipment

Crepe tape only

KS-23

2,240

1,290

ca.420

-

Flat 3 paper plies
with innermost
ply PE film seal.

KS-23D

2,560

1,290

ca.450

○

KS-24

2,450

1,290

ca.450

-

Flat 4 paper plies
with inner ply
seal.

KS-24D

2,770

1,290

ca.500

○

KS-26

2,910

1,290

ca.520

-

Flat 6 paper plies
and gusseted 3
paper plies with
inner ply seal.

KS-26D

3,230

1,290
ca.600

○
Temp. adjust range 0 to 400℃
Air req. 200NL/min(at 0.5MPa) Pressure 0.5Mpa(5kg/c㎡) (varies with speed)
Sealer height adjust range 800~1400mm
Add 0.55KW(50Hz) or 0.72KW(60Hz) power when optional dust cleaner is installed.
Above speeds are not guaranteed ones. They are given for reference only.
Length of the machine (L) varies slightly between manual insertion type and packaging machine coupling type.
KS     ー    2□   D
Kraft sealer ― 2:Rear sewer □:Heater pairs D:Dust cleaner S:Crepe tape + sewer only (KS-S only)
OUTWARD DIMENSIONS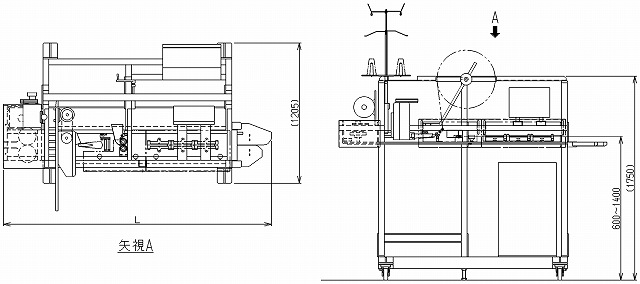 Dimensions vary with specifications.
Perforated Line

Printer

Heater

Dust cleaner
Seal-bag Top Closing Sewing Machine DS-11,DS-7A/C
Virtually sealed up OMPB top closing with heatsealable over-tape or innermost ply PE film seal.
Crepe-tape bound closure.
No failure and easy maintenance because of fewer parts than conventional sewers.
Upper and lower bag feeder synchronizes with the automatic bag feeder mechanism.
Specifications should be changed without previous notice
There are some differences between shown picture and specifications of each MODEL.
Diversion without permission should be prohibited.