The HS series heat sealers are released by Newlong Industrial who has been developing machines to seal all types of bags. The sealers are used for all types of grains and powdery products including rice, animal feed, fertilizer, salt and food.
Models include HS-22, HS-22D, HS-32+1P, HS-33 and HS-53 to cover all types of closures for heavy PE bags.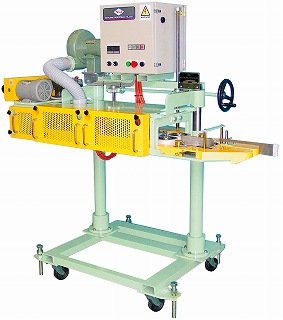 Features
Band seal type: models with many heater blocks are good for both PE bags and paper bags with an inner PE ply.
Teflon or steel band type is available. Type of bag and the product to be packed determine which to use.
Teflon bands are easily cooled and produces nice-looking seals. They are most suitable for sealing PE bags.
Imprinter can be retrofitted
Specifications for the HS Series
a) Either air or water cooling is available. Select one according to bag type, packing environment, etc.
b) Some models may be installed with optional trimmer, over-tape unit and dust cleaner.
c) The horizontal type is suitable for making bags.
Specifications

HS-22

HS-22D

HS-32+1P

HS-33

HS-53

Seal speed
(m/min)

7 - 20 stepless

Seal film

PE/PP

Total thickness (mm),
max

0.8

1.0

1.0

1.0

1.0

Seal width (mm)

7

Temp control
(max temp)

Fully electronic (400℃)

Sealer height
adjust range (mm)

1,000 - 1,300

Heater capacity
(W)

500 x 4

500 x 4

500 x 6

500 x 6

500 x 10

Cooling system (kW)

Air (0.2) or water cooling

Sealer
motor

(V)

200 / 220

(kW)

0.4

Length
(mm)

1,700

2,300

2,150

2,150

2,500

Weight
(mm)

1,000

1,000

1,000

1,000

1,000

Height
(mm)

1,700

1,700

1,900

1,900

1,900

Sealer weight (kg)

145

150

180

180

210

Options

Trimmer, over-tape unit, dust cleaner, imprinter (machine dimensions will vary).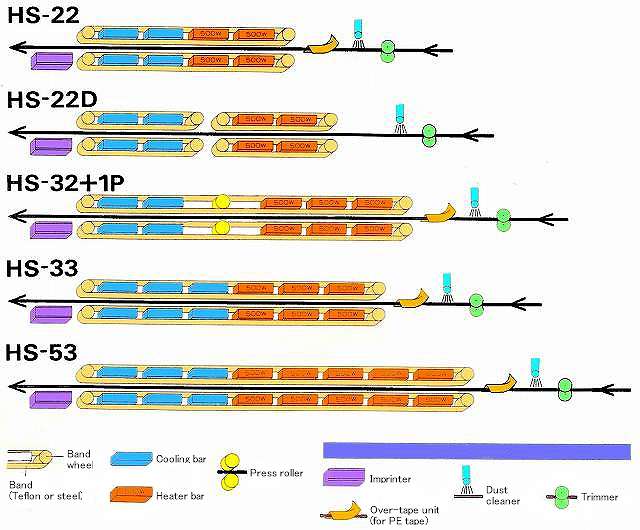 OUTWARD DIMENSIONS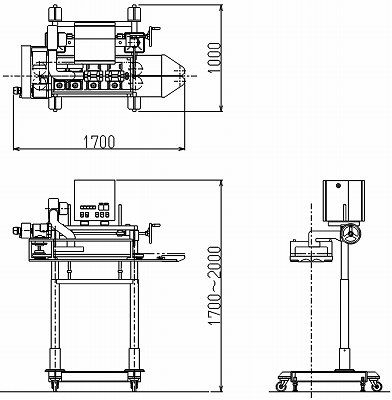 Dimensions vary with specifications.
Dust cleaner

Trimmer

Heater

Imprinter

Over-tape unit

HS-22-SD

: Heat sealer for both as Kraft bag and PE bag
Specifications should be changed without previous notice
There are some differences between shown picture and specifications of each MODEL.
Diversion without permission should be prohibited.